The 5 Best Point of Sale Systems for Small Businesses
As a business owner, you want to be sure that you get the right software and hardware to support your business. If you sell products in person, you'll need to look for the best point-of-sale system.
Below, you'll find out more about five different POS systems and where they are most beneficial. Whether you run a restaurant, a retail store, an online store, or a service business, you'll find something that works for your needs.
What is a point of sale (POS) system?
A POS system is a combination of software and hardware that reads a payment method, records this information, and sends it off to the payment processor. POS software can help store customer data, resulting in more effective uses of that data, such as loyalty programs.
A POS system is not just a cash register, as it's often built to integrate with modern smart devices. Many POS systems integrate with Apple's iPad, while others rely on Google's Android system.
Many POS systems offer enhanced features like inventory tracking, vendor integration, employee management, and customer loyalty support. Most importantly, POS systems often integrate with your customer relationship management (CRM) software, making it an excellent tool for signing customers up for business promotions.
These advanced tracking features save you time and effort in tracking data. However, the best POS system for your business will vary depending on your priorities.
1. Shopify POS – best if you also sell online
Shopify is better known for its eCommerce solutions. When starting an online store, Shopify is an excellent tool. Fewer people know about its POS system.
As one of the largest global eCommerce providers, Shopify is only second to Amazon. However, you are more likely to make more money with Shopify because it provides complete website-building tools.
Shopify requires you to pay for these website-building tools to get its POS tools. So, if you already pay for another eCommerce platform (like WooCommerce), getting Shopify just for its POS would be redundant.
Because Shopify focuses on providing a retail POS system, you won't find it in any restaurant. Instead, it's built for retail environments, with exceptional use for click-and-mortar businesses that operate both online and offline.
Main Features
Easy to use and customizable checkout
Accepts all major cards and bank transactions
Inventory management features
Employee management positions
Supports local pickup and delivery
Integrated loyalty programs
Unlimited product catalog space
Fully integrated hardware and software
Powerful analytics tools
Pros & Cons
Pros
Has an excellent eCommerce platform for multichannel sales
Easy-to-understand flat rate fees
Automatically comes with its own payment processor (Shopify Payments)
Built-in feature for customer loyalty programs
No long-term contract required
24/7 live phone support
Easy to use
Cons
Requires a Shopify eCommerce subscription
Not suitable for those who already have an eCommerce website
Payment processing fees are higher when you don't use Shopify Payments
Pricing and Plans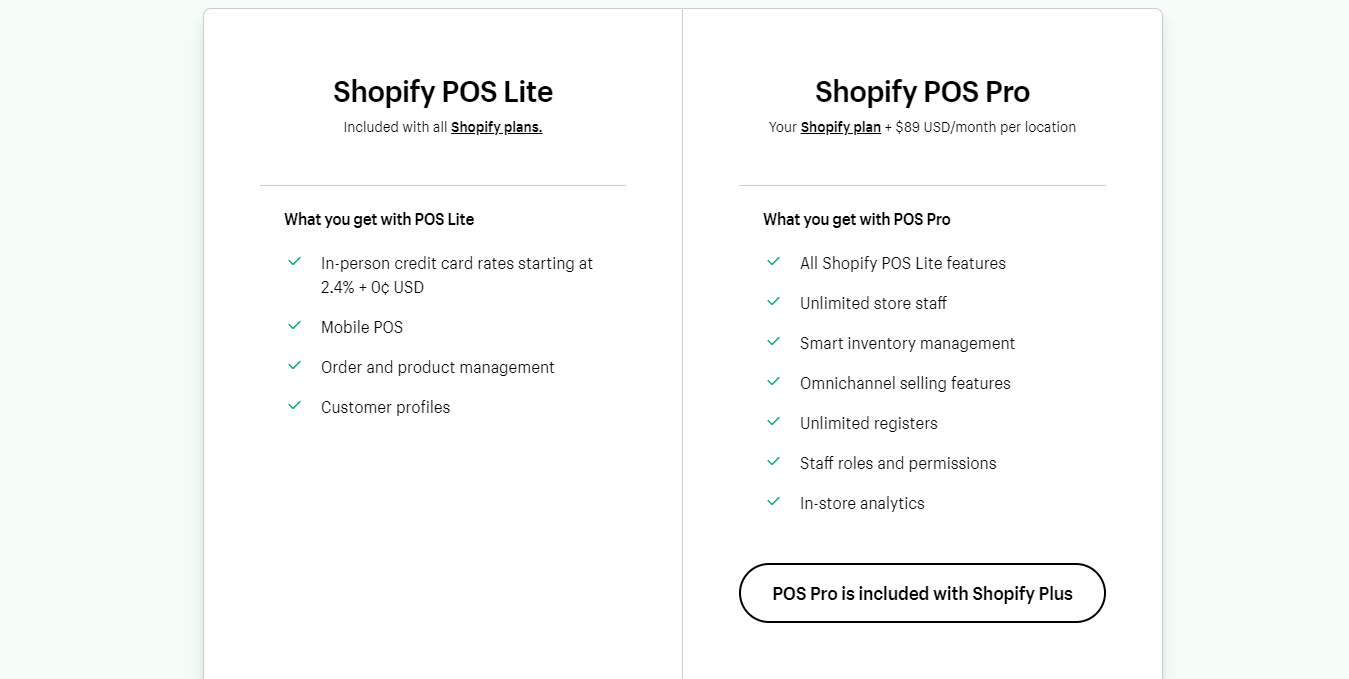 Regarding its POS, Shopify has two different pricing options: Lite and Pro.
Shopify POS Lite is technically a "free" system, meaning it comes with either the Lite, Basic, Standard or Advanced versions of Shopify's website platform, costing anywhere from $5 to $299 monthly. So, you need to pay for the website builder to use the POS, which is a bit wasteful.
Lite also comes with these features:
In-person credit card rates of 2.9% to 2.4%
Mobile POS access
Order and product management (using the standard Shopify system)
Customer profiles
The Shopify POS Pro plan costs far more, sitting at $89 per month per location. If you pay for Shopify Plus, their enterprise plan, you can get it free. Below are the features you get with this plan:
Unlimited staff accounts and registers
Control over staff by setting roles and permissions
Smart inventory management features
Omnichannel selling
In-store analytics data
You also have to pay extra for hardware:
Shopify card reader – $49
The retail kit (includes the tablet, stand, and a card reader) – $219
A Shopify POS Go mobile device – $399
Tablet stand – $149
Barcode scanners – starting at $49
Label printers – starting at $119
Cash drawer – starting at $139
You get no free hardware with Shopify's plans.
Verdict
Shopify's POS system is ultimately best for retail companies with a robust eCommerce component. Because of this, it has powerful POS software that leverages customer data.
Stores with pre-existing eCommerce systems that work or individuals who only sell offline will not find Shopify helpful. Their POS hardware is excellent but similar to other companies.
But if you consider upgrading your POS system and going online, Shopify might offer an excellent combo solution. But if you work in food service, you should generally avoid Shopify.
2. Square POS – the best entry-level POS solution
Square is one of the best-known point-of-sale systems on the market. Unlike Shopify, it offers both restaurant and retail POS systems. It also provides an eCommerce component, but this is optional.
Square is on this best POS system list because it is the perfect solution for entry-level business owners. This is because it is unlike Shopify in that they offer its services for free. The company also offers its first card reader for free, which makes it easy for anyone to start with them.
Square also offers many optional features, making for a completely customizable experience. These include payroll processing, email marketing, gift cards, and banking features (namely, to get faster payouts). Those looking for comprehensive POS solutions might find something from Square.
Main Features
A free virtual terminal for your mobile POS
A free phone app
Works with Apple Pay, Google Pay, and Cash App
Pros & Cons
Pros
Starts with a free card reader
Has a free plan
Includes many optional features (employee management, payroll, email marketing, etc.)
Specific system for service businesses
Cons
Transaction fees are higher than average
No support for Windows systems
Pricing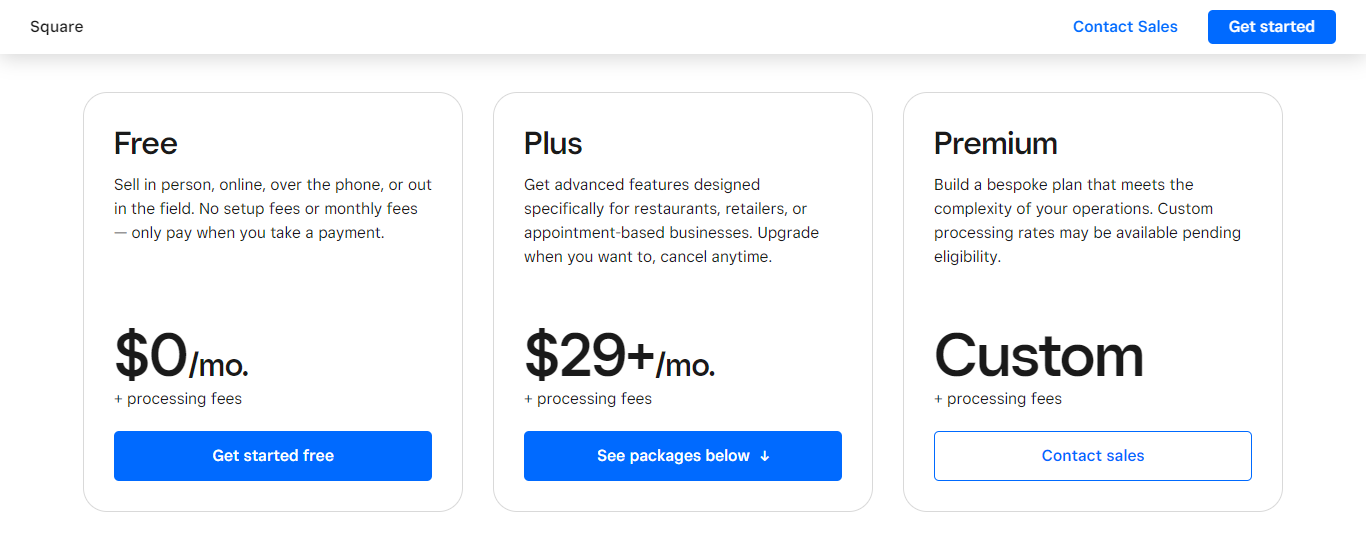 Square is broken into three different plan types with three different pricing types. These plan types are for restaurants, retail providers, and service companies (Square Appointments). All three offer a free version of the plan.
Square Appointments is the cheapest of the three, offering a plus plan for either $29 or $69 per month per location. Paying more will increase your daily appointment limit, sync with your Google Calendar, and give you resource management tools and commission-earning details for your staff.
The retail and restaurant plans start at $60 per month, making custom premium pricing ideal for those who make more than $250 thousand per year. Paying for premium plans adds POS devices alongside unlimited handheld and KDS devices.
The optional features also add to your monthly costs. Here's a breakdown:
Square Payroll – $35 per month plus $5 per month per employee
Square Loyalty – $45 per month per location
Square Marketing – $15 per month per location
Square Team Management – $35 per month (included free with the plus plan)
You also have to pay for equipment, which they do offer monthly financing on:
Square Stand – $149 (iPad device)
Square Register – $799 (offers two screens, one for your customer and one for you)
Square Terminal – $299 (takes payments and prints receipts in a small package)
Contactless Square Reader – $49 (connects to your phone through Bluetooth)
Magstripe Reader – The first one is free, next one is $10 (Uses your audio jack or lightning connector for mobile payment processing)
Square's cost increases when you consider its online and in-person transaction fees. Here's the breakdown:
In-person credit card payments – 2.6% to 2.5% plus 10 cents per transaction
Online transactions – 2.9% to 2.6% plus 30 cents per transaction
Manually keyed transactions (like card-on-file invoices) – 3.5% plus 30 cents per transaction
You get the reduced rates mentioned above when paying for a Plus Plan.
Verdict
Square is the right POS system for you if you want an entry-level option. Those who want to take card payments without an alternative method will find something great here.
You'll also find yourself with reduced monthly fees. However, this does come at the cost of higher transaction fees.
The good news is that Square offers excellent scalability for all business types. There are many expandable features, such as payroll management and email marketing.
Square's equipment is also impressive, offering many types of payment processors, receipt printers, and mobile tools. These tools can be paid upfront or on a month-by-month basis, offering great flexibility for new business owners.
3. Vend by Lightspeed (Vend POS) – best for multiple locations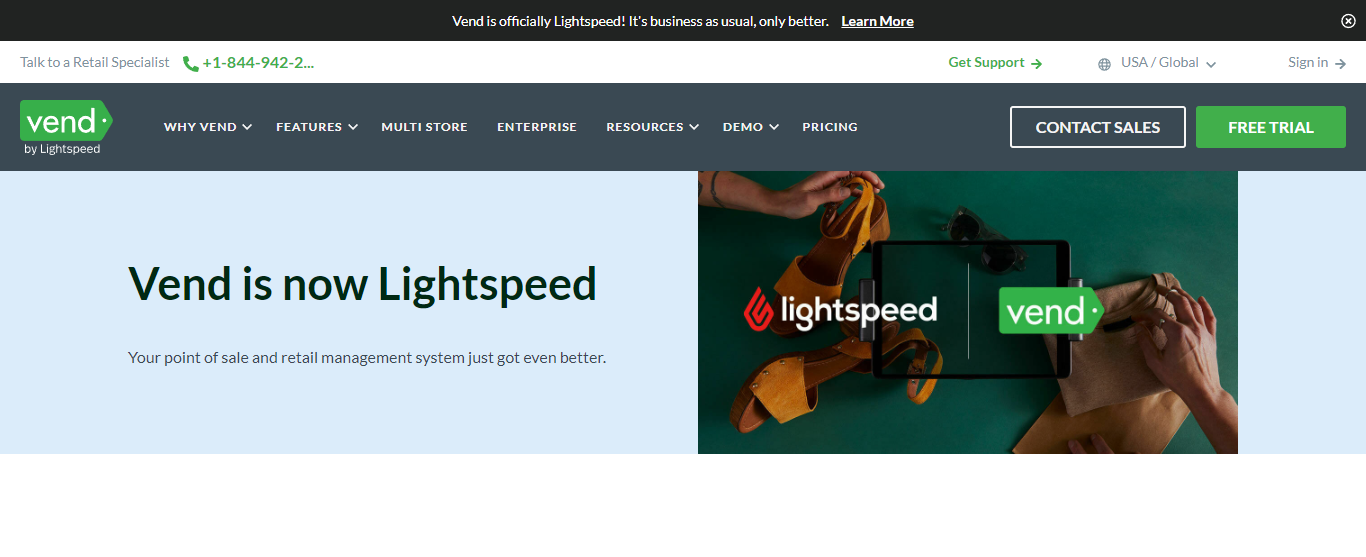 Vend POS is another high-quality system, now known as Vend by Lightspeed. Vend is the first on this list that doesn't offer its own payment processing system. This might give you more flexibility in finding processors with better rates.
Vend is designed more for medium to large-sized retailers. Their hardware is less suitable for smaller businesses or restaurants. Still, they have sold mobile POS systems and related equipment.
Unlike Square, Vend doesn't have a free version of its plan. This is because it doesn't rely on earnings from your transactions, as Vend doesn't charge transaction fees. Instead, those transaction fees vary depending on the gateway you choose to process payments from.
Vend is now owned by Lightspeed, which is known for Lightspeed Payments. Choosing Lightspeed Payments means you will pay transaction fees but get a discount on your monthly rates. To find out more about their transaction rates, read the pricing section.
Main Features
Vend will work offline
Works across all major operating systems
Supports online ordering with eCommerce integration
Inventory syncs across multiple channels
It doesn't include a payment processor but allows you to bring your own
Can create barcodes or import existing ones
Automated stock re-ordering features
Built-in customer loyalty program
Pros & Cons
Pros
No transaction fees
Excellent management tools for multiple locations
24/7 customer support
Unlimited products and users
Cons
No free POS software
Pricing is less friendly for entry-level sellers
Pricing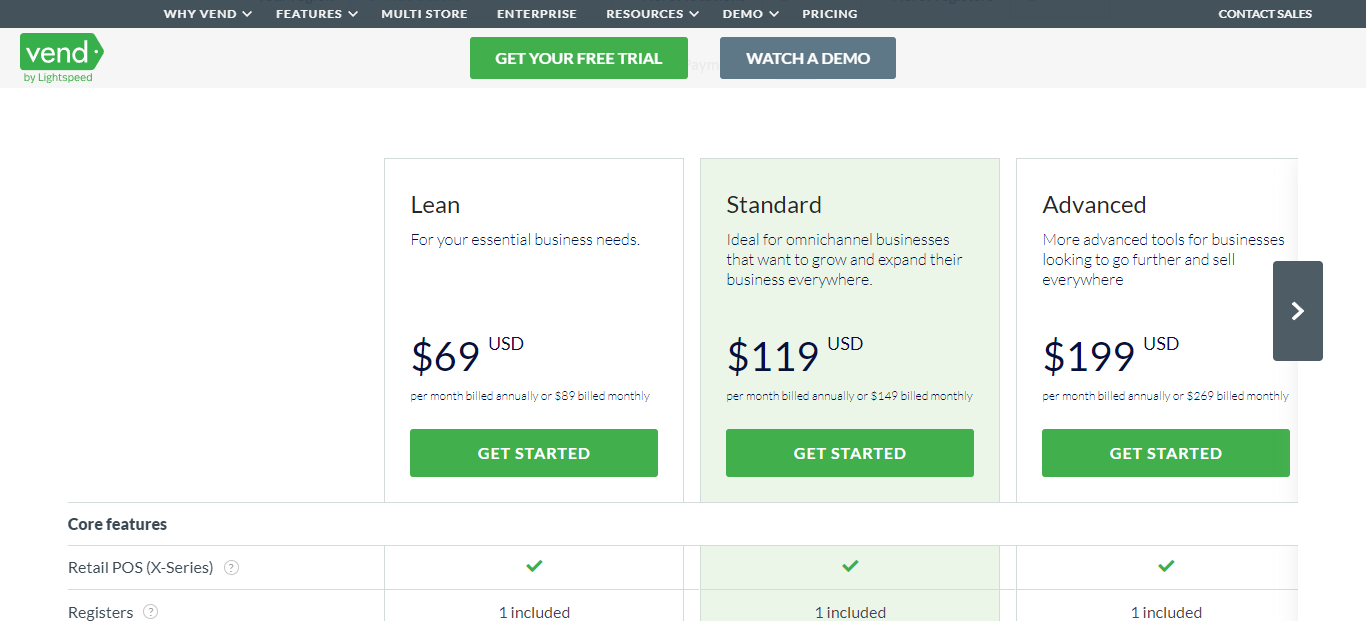 What you pay for Vend varies depending on whether you choose Lightspeed Payments.
There are four different plans to choose from. Here's a breakdown of how they compare:
Lean – $99 per month ($69 with Lightspeed)
Standard – $149 per month ($119 with Lightspeed)
Advanced – $229 per month ($199 with Lightspeed)
Enterprise – custom pricing
The Lean Plan focuses on offering access to the POS software and includes one register. The Standard Level includes support for accounting and eCommerce features. The Advanced Plan adds loyalty programs and advanced reporting features alongside the ability to general (Generate?) serial numbers.
Choosing Lightspeed Payments gives you the discount but also gives the company behind Vend some money per transaction. Here are the transaction rates:
2.6% + 10 cents for tapped, inserted or swiped cards
2.6% + 30 cents for manually typed-in cards
Special, reduced rates if you process over $250 thousand.
You also have to pay extra for the equipment, starting with $600 for the starter iOS hardware kit. This starter kit includes a receipt printer, cash drawer, and barcode scanner.
Other optional equipment includes a Zebra label printer (around $200), a Bluetooth payment terminal, a tablet stand, and a mobile terminal. These vary from $150 to $500, making them about average for the industry.
Verdict
Compared to other cloud-based POS systems, Vend isn't as friendly from an entry-level standpoint. The minimum you can pay is $70 per month, which is unapproachable for some sellers.
However, those who can afford this rate will find a comprehensive list of hardware options and software support. Their offering of 24/7 customer support also ensures they can support any issues.
The system is also easy to use but not as helpful or customizable if you run a bar or restaurant. Instead, they specialize in retail operations. They also support eCommerce integration but aren't as powerful as Shopify.
Instead, Vend is incredibly useful for those who operate in multiple locations. Their multi-location support and integrated inventory management features are convenient for this management style.
4. TouchBistro POS – the best of the restaurant
pos systems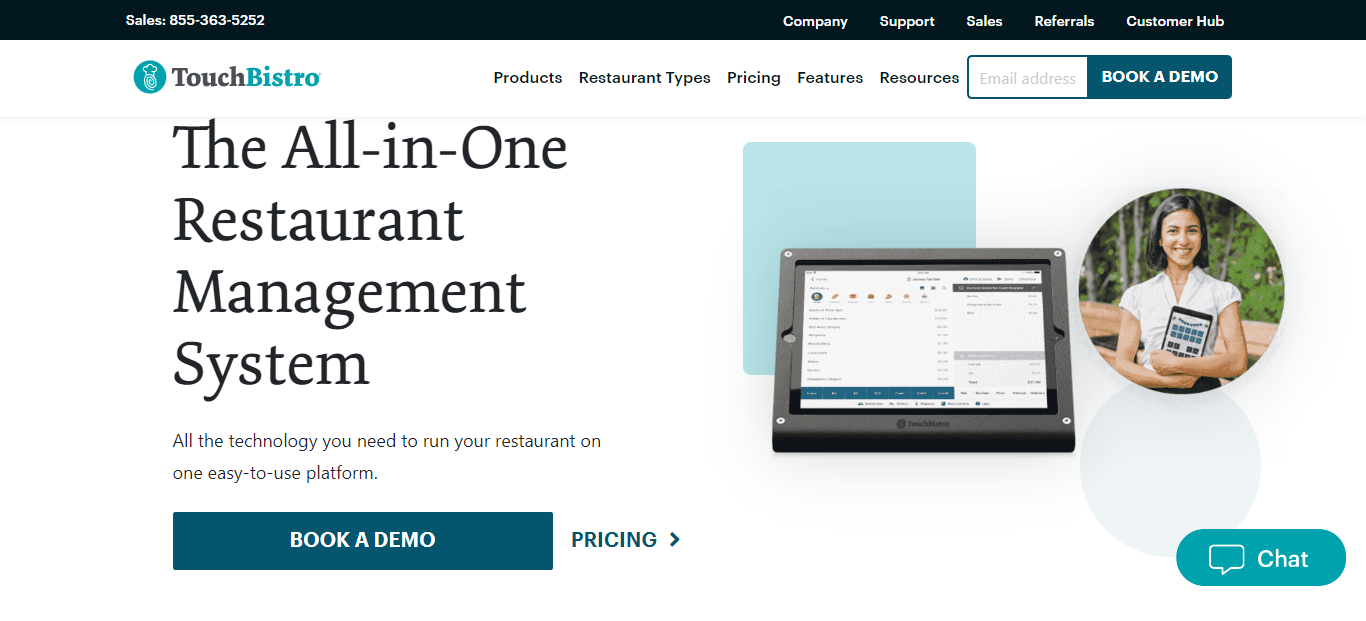 TouchBistro is the POS choice of Gordon Ramsey, a world-famous chef. Few POS systems offer the level of promise that comes with a celebrity endorsement. This one was featured on his "Hell on Wheels" restaurant makeover truck, so that should give you an idea of where this POS system is most beneficial.
TouchBistro's system is built off the ground for restaurants, being entirely unusable in other situations. Much of this comes from their table management, menu management, and tableside ordering features. Your customers can use TouchBistro and access your menu without speaking to a waitperson.
Other advanced features include staff and inventory management. The inventory is built on the cost and quantity of ingredients used in your food, providing you with a lot of sales data.
Many integrations and add-ons also help with online ordering, reservations, and loyalty programs. You'll find out more about the pricing of these features later.
Main Features
Focuses on menu management, table management, tableside ordering, reservations, and other restaurant-driven features
It offers employee management features so your staff can log in or out
Over 50 different report types to help you understand your operational efficiency
Payment processing through TouchBistro or third-party platforms (like Square)
Pros & Cons
Pros
The ideal solution for restaurant owners
User-friendly interface
It has a ridiculous amount of add-ons and integrations for a customizable experience
It is cost-effective when you consider how you'll need to modify other POS systems to match what TouchBistro offers
Cons
No free version is available
Requires you to sign up for a long-term contract
Hardware and payment processing requires a quote
Pricing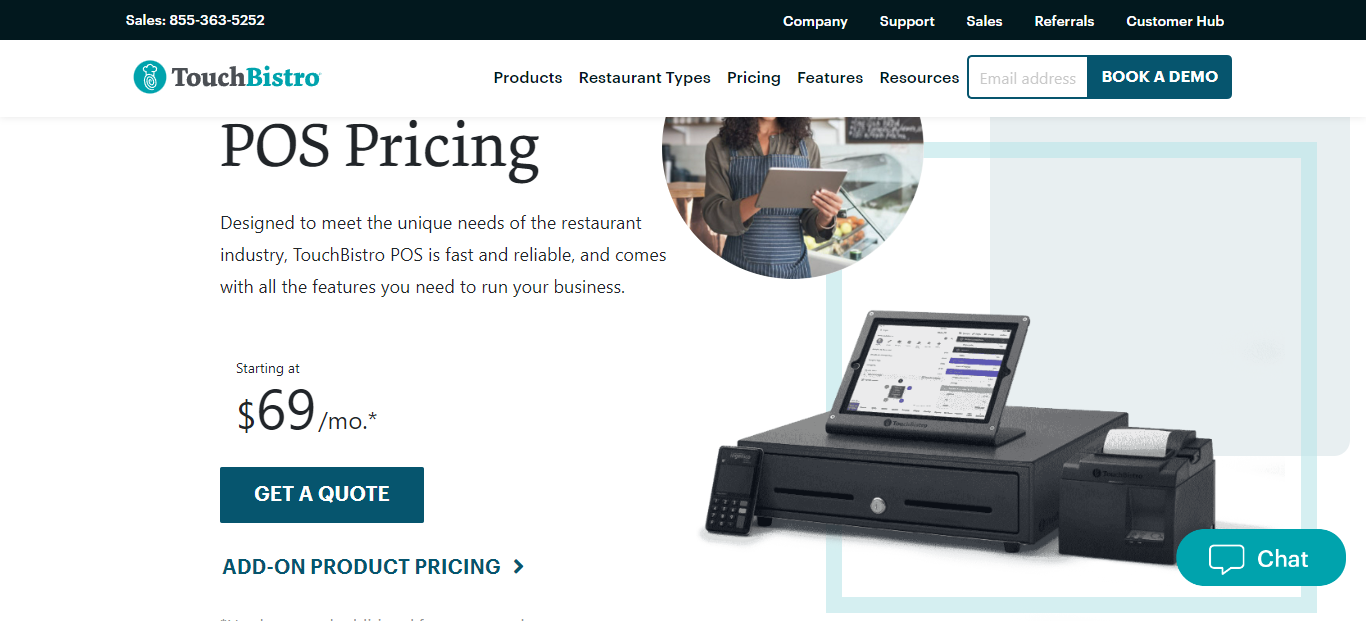 TouchBistro's pricing is entirely custom, varying depending on your needs. POS software plans differ depending on the features you need. The base system starts at $69 per month.
These software plans include menu management, table management, staff management, tableside ordering, reporting features, and some integrations.
Several add-on features are entirely optional but might be handy:
Online ordering – $50 per month
Loyalty plans – $99 per month
Marketing campaigns – $99 per month
Gift cards – $25 per month
Reservation systems – $229 per month
Regarding hardware costs, TouchBistro doesn't provide this information upfront. However, you will need an iPad to run the software, so you'll likely be spending a few hundred dollars.
Verdict
If you are looking for a new POS system for your restaurant, TouchBistro will likely be your best choice. Other POS systems don't emphasize restaurant needs as much as TouchBistro does.
Meanwhile, retail businesses shouldn't bother considering TouchBistro. The focus on building menus will make TouchBistro mostly useful.
TouchBistro is one of the few POS providers emphasizing restaurants as its central focus. As a result, the POS features you get through this are deep and helpful for all restaurants. Even your ability to track inventory is built around ingredients and menu items.
TouchBistro isn't perfect. The system doesn't support Windows operating systems or offer hardware solutions outside Apple products. Ultimately, this means you'll have to rely on expensive hardware.
5. QuickBooks POS – best pos system for the
service industry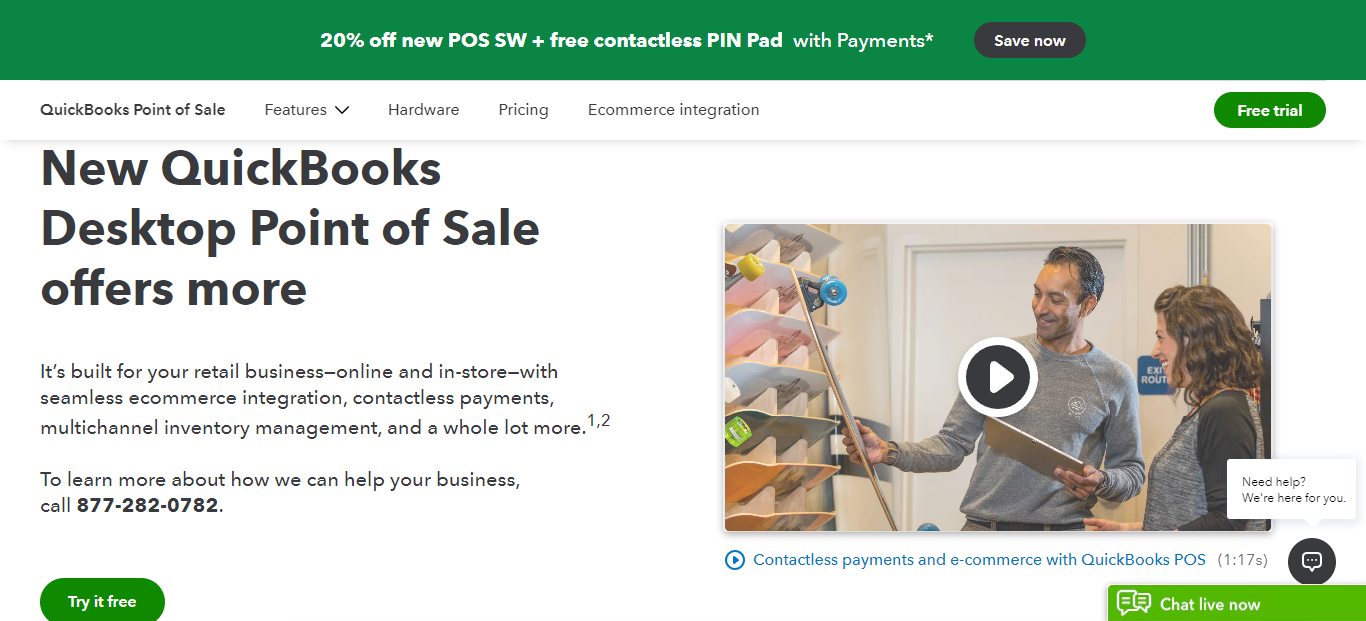 While most POS providers focus on cloud-based systems, QuickBooks does something different. Their server-based systems mean you don't have to rely on the cloud. This results in more stability, as the software is installed locally, giving you more troubleshooting options. Most POS systems (including the other options) are cloud systems.
QuickBooks also has excellent interaction with its own accounting and tax software. Businesses will often pick QuickBooks to save them time in handling their business. However, many of those same customers look elsewhere because of high initial costs, which we will cover in pricing.
QuickBooks' biggest issue relates to its dated interface, which might remind you of something out of the 90s. Despite appearances, many helpful features include inventory management, customer data management, and rewards programs.
Main Features
Contactless payments
Inventory management (lets you transfer between stores)
eCommerce integration
Customer data management
Basic reporting
Works with multiple operating systems and tablets
Rewards and loyalty programs
Layaway and gift card support
Employee and payroll management
Multiple store management
Pros & Cons
Pros
Integrates well with its own accounting software
Installed locally to avoid common cloud-based system pitfalls
Good fit for service businesses
Cons
Expensive one-time payment
The user interface is outdated
Hardware bundle is expensive
Pricing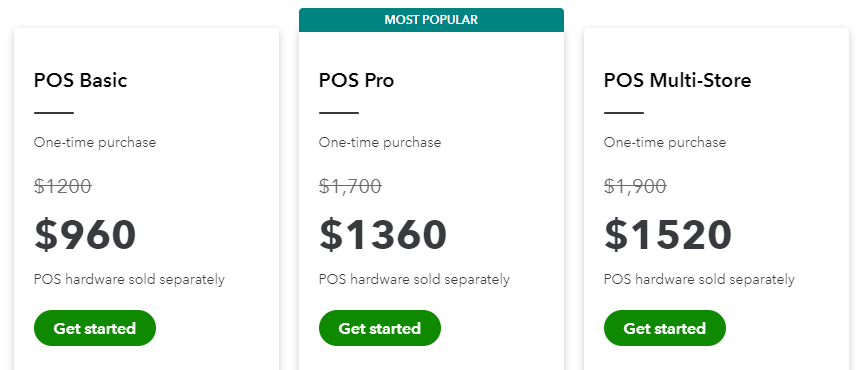 Unlike other software, QuickBooks has you pay for your product up front. The one-time purchase can save you money in the long run. However, it's a stiff bill for small businesses.
You can choose between one of three options:
POS Basic – $960
POS Pro – $1360
POS Multi-store – $1520
You'll need to pay all of it upfront to get the software. Also, if you grow to another store, you'll need to go back and pay for another license if you paid for the "pro" version, making the multi-store version the only option for those who seek scalability.
There are also numerous additional payments that you might consider:
QuickBooks POS Payments offer the free version with additional transaction fees. When you pay $20, your swipe-based charges go from 2.7 to 2.3%; your keyed transactions go from 3.5 to 3.2%. However, this gets moved to a 25-cent per-transaction fee, making the POS payments system only useful if you make multiple larger transactions.
You can choose to integrate with third-party payment processors, but it will limit your ability to use some features within QuickBooks.
Verdict
QuickBooks POS reminds us why cloud-based systems have gained popularity. They are meant to be incredibly simple to set up and scale. QuickBooks requires a bit more work but can result in more savings. Cloud-based systems are generally more popular because of this.
The one-time payment is steep but justifies its cost over many years. After all, having to pay monthly fees means you'll always be paying for someone. Not having to rely on that saves you a good deal of continuous investments. But QuickBooks operates on the assumption you'll be paying for their optional features.
Because of how QuickBooks is built, it's ideal for service-based industries. Home improvement specialists, mechanics, and other service businesses can benefit heavily here. Smaller retail businesses, like bike shops or jewelry stores, can also benefit from this platform.
How do you find the best point-of-sale system?
In finding the best POS system, you'll find that they aren't just made for the point of sale. Many include powerful third-party integrations and optional features that can make running your business easy.
Your POS system cost will change depending on the features you want, so it's best to create a priority list of these features. Below, you'll find some things you should look for when picking between different small business POS systems.
Different types of payment processing options
POS systems do not need a payment processor built in, although many decide to follow this route. With this in mind, knowing your payment processing options can help you select something that works for you.
Specifically, you want to look for reliable payment processors that keep costs low. There are two general cases:
First, you have payment processors that choose to focus on percentage-only. This means they won't add any cent amount to the total. Second, you have a percentage plus a flat rate, which often adds 10 to 30 cents to every transaction.
Percentage-only transaction fees are better if you sell many inexpensive products or services. This is because they don't pay an extra few cents for every transaction. Meanwhile, the flat rate option is suited for fewer and more expensive transactions.
Regardless of your chosen processor, keep the rates in mind when picking the best options.
Cloud-based vs. server-based systems
There are two available POS system types on the market: cloud-based and server-based.
Cloud-based services are the most popular type. They draw processing power from programs run by distant computers. This way, you can run your POS system remotely, creating better scalability.
Cloud-based systems are generally inexpensive because they aren't shipping out the entire program. Instead, they sell you access to running the program. When you purchase hardware, it's already set up to communicate with this system.
Server-based systems still communicate with these distant servers, but the POS runs on your computer. QuickBooks, for example, runs a POS program you can install on your Windows desktop. This means you need more work and a device that can run these systems.
The benefit comes for your technical staff members that know how to run these programs. Rather than waiting for your cloud-based services to solve the problem, you can solve your problem. Of course, you need to hire someone who knows the program.
Device-based limitations
Most POS systems run on iOS, specifically for connecting with an iPad. However, some run on Android tablets, which are often less expensive than iPads.
A small number of POS systems run on Windows. However, this is uncommon because most of these are based on mobile POS systems. If they do, Windows acts as the hub managing other POS devices.
Think about the devices that meet your needs. If mobile POS systems don't meet your needs, don't pursue them. If you can see how they might be helpful (like for food trucks), check them out.
Inventory management features
Good retail or restaurant POS systems will include inventory management. This helps you track your stock count, often providing information on the rate you go through the inventory.
Good inventory management software will tell you when the best time to re-order is. They'll automatically track the inventory reduction when a sale is made. For businesses who want to save time, they are a must-have feature.
Some advanced forms of this feature will automatically notify the supplier when to send you goods. A good number of integrations can help you out.
Customer management features
Another factor of a good POS system is managing customer data. This comes in two general forms: a loyalty program and marketing purposes.
Customer loyalty programs encourage your customers to come back. Typically, these connect to point-based systems that track customers by entering their phone numbers or recognizing their card data. Regardless of how it's a great way to get people to come back.
Few POS systems come with email marketing features, but there are some. These features can help notify your customers of current promotions. It's also a great way to engage your local community.
Employee management
Employee management features often come as optional features. However, those who run a staff will find these tools convenient.
The most common form of management is to track staff movements. For example, it might control who has access to the cash register and record when transactions are made.
Other forms include offering employees a method to check in or check out of their shifts. This connects directly with payroll software, another common feature of employee management.
Conclusion – what is the best POS system?
From an overall perspective, Square offers the best combined POS system. This is mainly because of their focus on ease of use, making it simple for all businesses to take advantage of them.
However, specialized POS systems might be better for your needs. For example, TouchBistro is the best POS system for restaurants. The other POS systems on this list vary in use for retail companies and service industries.
I hope this list helps you pick the best POS system. Always be sure to prioritize your needs when choosing one.